Fire Suppression CCCF Chromed Automatic Sidewall Fire Sprinkler
Sidewall Fire Sprinkler protrude through the wall and spray water in a half circle.
They're designed to protect small rooms, hallways and other areas where sprinkler pipes are running up walls but not in the ceiling. You've probably seen one in a hotel room, where they are most commonly found. Although they're designed to be installed on the wall instead of in the ceiling, they perform the same basic functions as other fire sprinklers.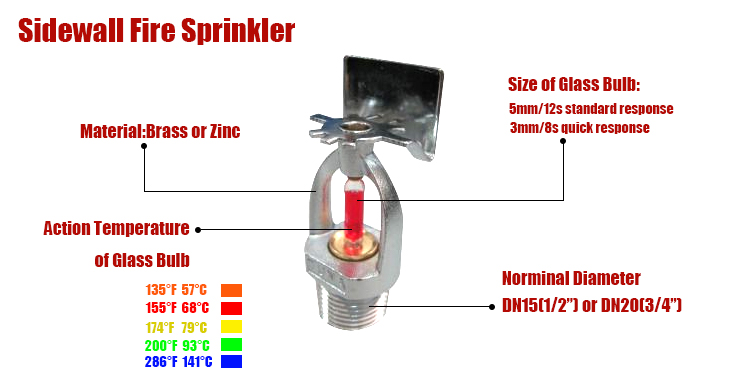 Sidewall Fire Sprinkler Product Features:
1.Brass material of high quality
2. 5mm glass bulb of standard response
3.Chrome finished surface to prevent corrosion
4.CCCF certified,quality guaranteed
Sidewall Fire Sprinkler Fire Sprinkler Systems: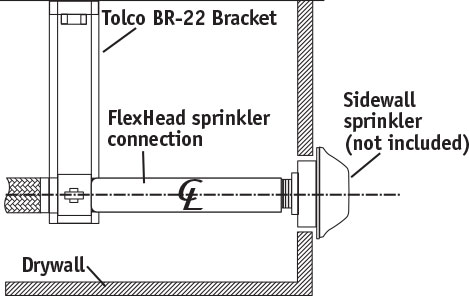 Sidewall Fire Sprinkler Temperature Rating:
| | | |
| --- | --- | --- |
| Nozzle Rated Temp | Max Ambient Temp | Glass Ball Color |
| 57°C | 27°C | Orange |
| 68°C | 38°C | Red |
| 79°C | 49°C | Yellow |
| 93°C | 63°C | Green |
| 141°C | 111°C | Blue |
| 182°C | 152°C | Purple |
Related product for Sidewall Fire Sprinkler :
Sample is available, please feel free to contact us or leave a message to us for sample, price or details specifications.
For other fire sprinkler accessories, here is the way: fire sprinkler accessorie