Flexible Rubber Backing EPDM Fire Hose

High tensile strength ring-spun polyester yarn with a flexible EPDM liner and calendered rubber backing keeps the hose supple when empty—and extremely tough when you need it to perform.

Feature and Benefit:
-Innovative Design. Premium quality, double jacket, EPDM (Ethylene Propylene Diene Monomer) rubber lined fire hose made from 100% high tensile strength ring-spun polyester yarn. The liner is attached to the inner jacket using a vulcanized calendared rubber backing that mechanically and chemically bonds the EPDM rubber lining to the inside jacket without the use of glues, and provides the assurance that the lining will not delaminate. Calendar backed hoses are more flexible and have a higher heat resistance than other hoses using a Thermoplastic (TPU) adhesive.
-Sturdy. 100% high tensile strength ring-spun polyester yarn with a lining of extruded EPDM. Excellent for tough applications such as construction sites, mines and industrial firefighting.
-Flexible. Remains flexible to temperatures as low as -40°F (-40°C) and is highly resistant to ozone and oxidation. Kink resistance exceeds that of lightweight jacketed hose.
-Identifiable. Optional color-coded stripe of one contrasting color can be woven into the outer jacket running the full length of the hose.
-Versatile. Suitable for use with CAFS and foam solutions.
-Certified. Manufactured within our ISO-9001 certified quality assurance system.


Packaging/storage - Individually packed in cartons for ease of handling and shipping. Hose coils easily for storage
Color :
white,yellow,red,blue or other colors on request.
A color stripe can be added on the jacket, please inquiry before placing order.
Couplings: Aluminum & Brass NPSH / NST / IPT expansion ring threaded coupling, Aluminum Storz, instantaneous BS couplings or other type of couplings on request.
Rubber Backing EPDM Fire Hose Specifications: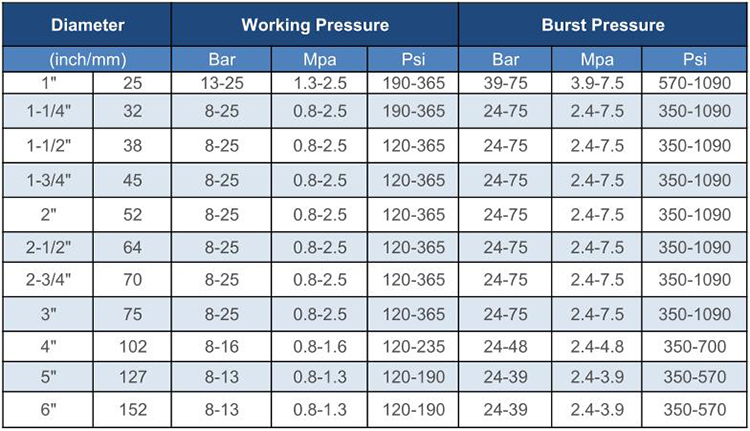 We serve customers for over 30 years — so we've got the knowledge and industry experience to help you get it right.
Let the professionals at Winner Fire help you select the products that meet your exact needs.
Send inquiry now.